Paudin is an emerging name in the knife market and has been growing for four years since2017. Paudin knives have an elegant design, are made of durable materials, and many professional chefs also use them. Despite being rated very highly by professionals, the average customers still don't know what makes a Paudin knife so good.
There are several Paudin knives available on the market, but each is unique and is designed for a specific purpose. Customers aren't aware of the specifications, and they end up buying the wrong product. To ensure that customers get the right product, we have compiled a list of the best available Paudin knives.
BEST PAUDIN KNIVES
Want to learn more?
Here are our paudin knives reviews:
The Paudin pro kitchen knife comes at a length of 8-inches. It has a comfortable handle and has a stylish look which will make your knife truly stand out. The knife is made of stainless steel and it weighs in at 0.53 lbs. Its dimensions are: 11.81 X 2.05 X 0.08 inches. The Paudin pro kitchen knife comes with a sharp edge, and it offers effortless cutting.
This knife can cut fruits, vegetables, and meat with ease, and it does all the cutting with minimal effort. This knife is light in weight, and the sharp blade gives it the perfect balance. The knife will also reduce stress on your wrists, and you won't have to struggle while cutting. Professionals have applauded the knife for its sharpness and stylish blade pattern.
This Paudin knife comes packed in a black case with a magnetic clasp, which also makes it a perfect gift. The handle of this knife has three rivets, and the blades are forged so that they form a cloud-like pattern. The Paudin pro kitchen knife will enable you to cut through even the hardest of ingredients easily.
When it comes to style and elegance, this knife is second to none, but it is also really good at its job. High-quality stainless steel material will enable this knife to perform at a high level consistently. It is extremely lightweight and can easily cut through almost anything. If this knife fits your budget, then it will be a worthy investment for you.
Why do we like it?
Elegant
Lightweight
Durable
Gift box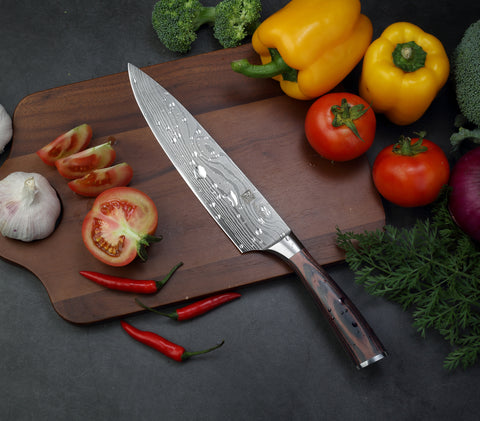 2. Paudin Pro Kitchen Carbon Hammered Chef Knife
This Paudin knife is probably the best stainless steel material available on the market. The German high-carbon stainless steel is solid as a rock and does not break that easily. The powerful stainless steel material makes the knife more balanced and gives it sturdiness. This Paudin knife is very durable, and it will last for a long period.
The blade of the knife is very sharp, and it offers effortless and smooth cutting. The hammered design of the blade offers plenty of resistance and puts less strain on your wrists and joints. This knife has an Abs handle which is non-slip. Compared to the traditional wooden handles, the abs handle is stronger and much more durable.
The design of the handle offers more comfort, control and will easily fit in all hand sizes. This knife is efficient enough to solve all your cutting tasks, and the large blade will enable the knife to slice through almost anything, no matter how hard or soft it is. This Paudin knife can easily slice, dice, and chop meat.
This knife also comes with a gift box, it is has a stylish design, and it is made of an extremely strong variety of stainless steel. What you can do with this knife is only limited by your imagination. Paudin has come up with another wonderful blade, and it is worth your investment.
Why do we like it?
Abs handle
Gift box
Sturdy
High-quality stainless steel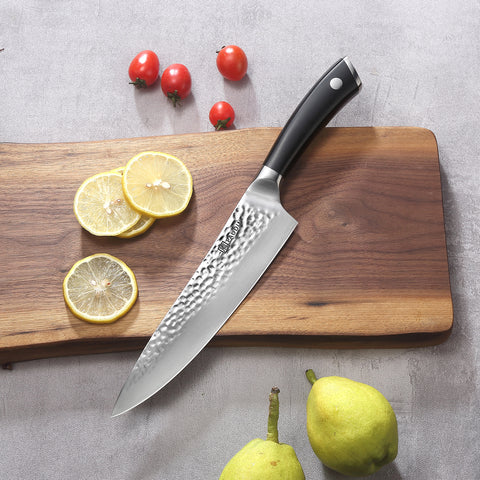 3. Paudin Pro 3.5 Inch Paring Knife
Despite being smaller in size than other Paudin knives, this knife is still a very good quality product. The knife has a plain edge that is best for peeling and is designed for garnishing, mincing, slicing, and dicing. You can use this knife to cut and slice all types of fruit. This knife from Paudin is made with high-quality stainless steel and has a razor-sharp edge.
The shape of this knife will give you full control, and it will make the cutting effortless. The thin blade of this Paudin knife will also allow you to maneuver comfortably, even in tight spots. The handle of this knife is made from pakkawood, it is smooth, and the blade has a beautiful wave pattern.
This knife is available in silver color and is the perfect kitchen tool to have, especially if you have a lot of cutting to do. The size of this knife may be small, but it can still do a very good job. It can slice through fruit, wet meat and cut through those tight spots, something normal knives cannot do.
Once again, Paudin has come up with a stylish knife that is compact and is effortless in its cutting. Not only will this knife deliver, but it will also save you a lot of time and money, so don't hesitate to buy it.
Why do we like it?
Pakkawood handle
Stainless steel
Effortless cutting
Stable blade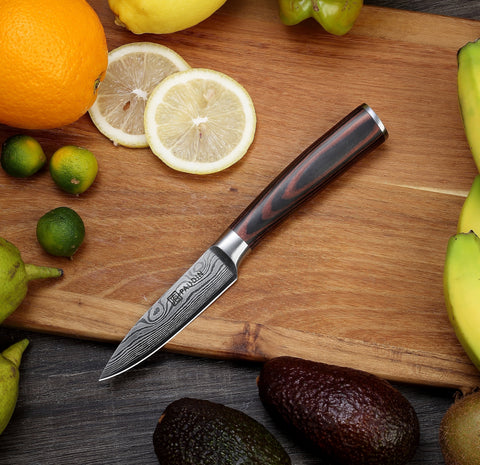 4. Paudin Pro VG10 Stainless Steel Damasus Chef Knife
This Paudin knife is versatile and can chop, slice, mince, and dice various ingredients such as fruit, vegetables, and meat. This knife is made of 67 layers of stainless steel, and the knife hardness sits at 60 + HRC. This Paudin knife is a durable product. It is built for heavy-duty use and can last for a long period.
This knife has a high resistance to rust, which will make it even easier to maintain. The Paudin Damascus is also lightweight. The handle is made out of micarta and has three rivets that give the knife balance and a sturdy look. The grip of this Paudin knife is very comfortable, so it will easily fit in your hands.
This knife offers effortless and smooth cutting. No matter the ingredients, it will be able to cut it. This Paudin knife will make your kitchen tasks easier, efficient, and, compared to traditional knives, consume very little time. The Paudin Damascus knife also comes with a stylish black-colored gift box.
The Damascus knife is another high-quality product from Paudin. It is durable and offers effortless cutting. The knife will also put very little strain on your wrist, and its high rust resistance will help it last longer.
Why do we like it?
Stainless steel
60 + HRC
Effortless
Durable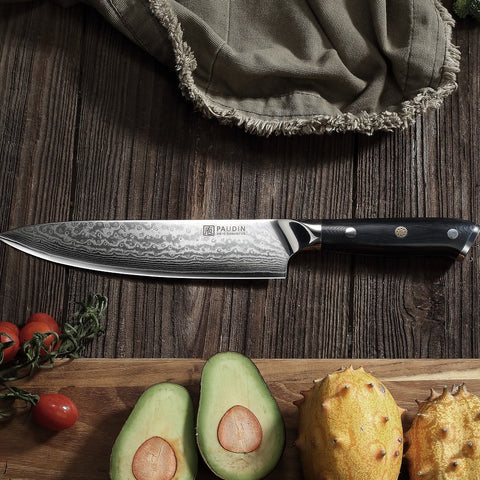 5. Paudin Pro Stainless Steel Steak Knife Set of 4
This Paudin steak knife set comes with four razor-sharp, serrated stainless steel knives. These knives can cut through even the hardest form of meat, and the edge of the knives is designed to slice through the meat without tearing it. Unlike other steak knives that get rusty, these Paudin knives will never catch rust, as the stainless steel material is rust-proof.
These knives are also incredibly strong and will not break that easily. They are sturdy and also have a very stylish design. The handle has three rivets, it offers a firm grip and allows you to cut your meat effortlessly. This knife is what you need if you are a steak enthusiast.
Most steak knives get rusty quickly, get stuck in the meat, and are very difficult to maintain. The Paudin steak knives are sturdy, rust-proof, and their serrated shape will allow you to cut the meat efficiently. These knives are also very strong, so if you are looking for a knife that will last long, these Paudin steak knives are for you.
Why do we like it?
Serrated
Razor-sharp blade
Sturdy
Durable